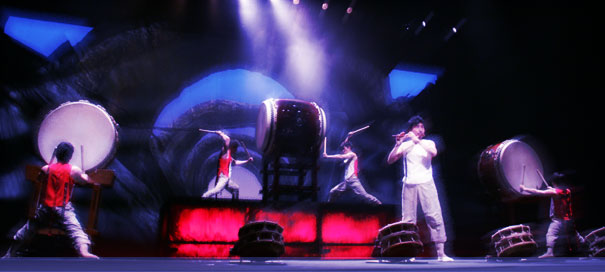 Tokyo Dageki Dan is a music performers group featuring Japanese drums or "Taiko" founded by HIRANUMA Jin-ichi in 1995. It seeks the possibilities of Taiko through new sensitivity not limited to any styles, performing attractive stages of Taiko ensemble.

The field of performance steadily spreads including "Japan's Taiko" at National Theater, various Taiko festivals, events at nationwide cultural facilities, art appreciation meetings at high schools, and other events as well as Taiko instruction for presently popular entertainment performance show "The Convoy Show" and performing in a movie "Kyoki no Sakura" by Toei featuring KUBOZUKA Yosuke as the main actor.

In June 1996, they performed to a capacity audience of 4,000 in the Prenery Hall of the Jakarta Convention Center in Indonesia where they were received with great enthusiasm. (This was a special 15-member performance centered on Tokyo Dageki Dan.) Another Tokyo Dageki Dan project involved two of the members participating in "THE WTO CLOSING SHOW" in Singapore in December 1996. France and Africa tour sponsored by Japan Foundation was held for a month in 1998. In July 1998, the group performed with the Korean National Dance Troupe at the closing ceremony of the FIFA World Cup in France, representing the host countries of the next World Cup Championships. In July-August 2000, Tokyo Dageki Dan performed the Europe tour including the UK, Finland, Belgium and Germany(Hannover EXPO 2000).

In addition, performances at Moscow and Sankt Peterburg were also held aspublic opening events for "Festival of Japanese Culture in Russia 2003".Moreover, Tokyo Dageki Dan performed The Caribbean tour in 2004(by UnitgKOTAROh/Barbados/Cuba/Dominican Republic) and The South-East Asia tour inJanuary 2007(withgHono-o-Daikoh/Thai/Malaysia/Brunei Darussalam) . The group is making a remarkable progress in Japan and overseas countries..

We aim at highly completed stages with musicianship, joyfulness, and skilled technique.

| | | |
| --- | --- | --- |
| | | i1.4MBj |